Grand House Cooling Party of Percy Crescent
---
Thursday 23 January

And then the community started to recover and heal itself. For us, it began on the Thursday after with an invite to a "House Cooling" party thrown by Elizabeth and Tony Marburg across the road at number 37. They had lost everything, but they wanted to throw a party, tell their story and say thank you to their friends and neighbours.

They were special to us because on the first weekend after we moved in last August they brought us a freshly baked cake to say welcome.
Here are some photos of the party held amid the ruins and destruction of number 37

Click photos for larger images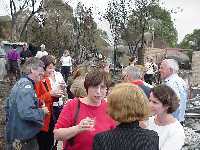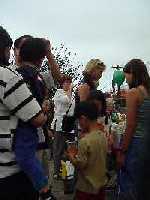 This is Julie, our next door neighbour with some of her children at the party. They were away on holiday when the fires happened and lost their house.
---
Bernard and Lyndsey Robertson-Dunn's Canberra bushfire website
Home Page