Three Weeks Later
---
The tree has gone - so has the rest of the back garden. The Mulberry tree didn't make it, even after hugs, kisses and seaweed solution. All we have left is a clear view of burned out houses.

Yesterday was not a good day, especially for Lyndsey. Lyndsey is really into gardening and she loved the garden we bought last August.

The workers turned up half an hour earlier than planned on Friday morning, well before 7:00am

By the time Lyndsey emerged in a fit state to talk to them the cedar was half down and they were trying to get a large machine into the driveway so that they could turn what had been our garden into woodchips.

Lyndsey was in a mad panic moving cars, answering workers' questions, getting dressed and ready to go to work, make my breakfast and all the while the remains of the garden were being devoured by a noisy monster round the front.

Son Stephen had arrived the evening before from Melbourne to give us a helping hand over the weekend. He had the unfortunate experience of seeing his parents in floods of tears as this all progressed.

The initial adrenaline and excitement of the fires and the immediate aftermath had worn off and this was a cold hard shock to the system for both of us.

Lyndsey left for work, still in tears. When she arrived they took one look at her and sent her back home. She couldn't face going back to watch it happen so she called Stephen and asked him to let her know when it was over.

After sorting a few things out with the workers, I headed off to work, not a little upset myself by the start to the day.

Lyndsey went and sat by the lake in Weston Park where we had had a picnic the night before the fires. On that evening, the fires were just smoke in the distance, kangaroos came down to the lake's edge to drink and rowers were busy training.

Stephen called when the operation was over.

Lyndsey and Stephen spent the rest of the day in the back yard digging out and pulling up roots, mainly by the one part that had survived, the flower beds around the BBQ.

When I came back from work, it was all over. All the trees had been cut down and removed, the stumps had been ground down and we now have a yard, not a garden. There is very little evidence of soil, it's all dust. We can empathise with the farmers who are trying to survive the drought. Nothing much can grow in the ground at the moment.

Click photos for larger images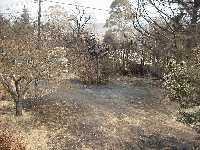 This is what it looked one week after the fire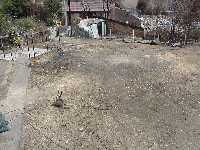 This is the view today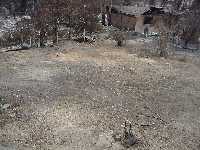 Another view of our new garden. Can you see the 13metre cedar tree? Neither can we.

Stephen and Carolynne were both around this weekend helping clear out even more rubbish. It's great to see them so often, just a pity it's not in happier circumstances. I guess that will come later when we start creating, not destroying.

We are making plans for the new garden - water features, vegetable beds, trees, bushes - the whole Ground Force thing. It's not all bad, it just feels that way sometimes.

If anyone reading this in Canberra wants to help people like us who will need to re-establish their garden come next spring, our suggestion is that they take cuttings, divide agapanthus etc, and be ready to donate beautiful new greenery when, hopefully the drought is over and planting is possible.

And keep listening to ABC 666. Our local station has proven to be the focal point for the community. The people there have been magnificent in drawing the community together and acting as a clearing house for information, help and assistance.

---
Bernard and Lyndsey Robertson-Dunn's Canberra bushfire website
Home Page