April 28
---
Today is three months, one week and sone day after the fire. Not that we are counting

I had my heel X-rayed last Wednesday and went to the fracture clinic on Thursday when I was told that I was now ready to start putting weight on my foot.

I have been very lucky with the injury. It seems that the only damage was a broken heel. The calcaneus bone was broken into six pieces, however, there was no soft tissue damage and so, once the bone has knitted and hardened, my only potential long term problem might be arthritis. The part of the heel that forms the joint with the ankle had some breakage and the bone will not be as smooth as it was. Luckily it is not a joint that has a wide range of movement anyway so I might not have a problem.

Since the cast came off six weeks ago I have been swimming quite a bit and excercising the ankle joint. I had been told to stay off the foot completely for three months. That was last Friday so I have been gradually putting weight onto the foot and so far it has not been giving any pain.

I now feel as though the I can put the experience of the fires behind me. I still have a way to go to get strength and flexibility back but it is now only a mild inconvenience. I still go cold just thinking about what might have happened to me jumping off the roof and am thankful that I got away as lightly as I did.

Now we can start working on getting the gardens back into some sort of shape and making claims on the insurance.

Most of the houses around us have now been cleared away.

Click photos for larger images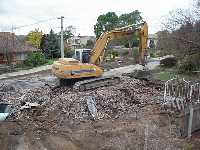 This is Julie and Tuan's house, next door to us, being cleared..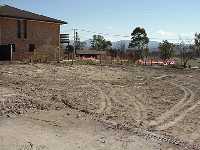 The view now of our house from Julie and Tuan's front drive:

We took advantage of the offer of a free consultation with a landscape architect about restoring out back garden. We don't want to wait for trees to grow back in order to provide shade, so the latest plan has a pergola in the far back corner. We also want to have quite a lot of room for a vegetable patch, fruit trees and other edible plants, hopefully irrigated to some extent by grey water. One thing the bushfire and drought have made very clear is the need to rethink garden design and usage. No more big expanse of lawn.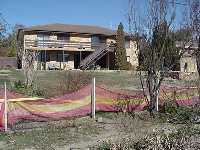 Our back garden from the bottom fence.



The houses at the bottom of our garden have also been cleared.

We have had some growth in the back garden, mostly grass and weeds. Some of the bushes we left in the ground have sprouted. The trees in the foreground of the above picture have been left by our neighbour, but they are not showing any signs of recovery.

In the front, Tony and Elizabeth have had their block cleared.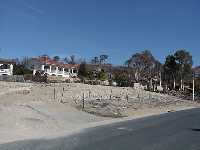 This is the view from the road.

From their block, looking towards our house it looks like this: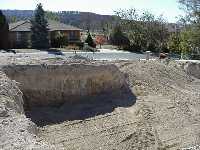 They have decided to move the garage to the left side of the house (from the road) and have dug into the rock to put it under the house.

There are many signs of renewal going on around us. Many of those who have lost their homes are planning or actually starting to re-build. Some are selling and moving on, a few are still waiting to have their blocks cleared. The raw aftermath of the fires is disappearing. There has been some rain recently and a little growth is masking the burnt black of the landscape before winter sets in.

We have about five months before we can plant the new garden, during which we need to have fences put up, organise the new layout, get a pergola built, plan a small lawn and flower and vegetable beds.

Lots to do, but at least I can start doing some of it. I'd better start by putting in an insurance claim.

---
Bernard and Lyndsey Robertson-Dunn's Canberra bushfire website
Home Page